Wing Commander Ian Richard Gleed
Distinguished Service Order (DSO), Distinguished Flying Cross (DFC), Croix de Guerre (Belgian), Croix de Guerre (French, posthumous)
Born on 3 July 1916, Ian Richard Gleed had his first flight at Hatfield (a joyride with the London Aeroplane Club) while still at school. He later became a member of the London Aeroplane Club (thought to have joined in April 1935). He gained his licence on 12 July 1935 (No.12976) at Hatfield. However, one biographer states he qualified on 31 July 1936 (No. 8003) – after he joined the RAF in March 1936 (possibly this refers to a B-licence).
He was given the nickname 'Widge' – short for 'Wizard Midget', apparently due to his tendency to call things 'Wizard' (like people today describe things as 'Wicked'), and his short stature (he was 5 feet 6 inches / 1.65m). He mentions his RAF nickname in his part-fiction, part-autobiographical book but claimed not to know how he got it (although that may be irony as his commanding officer calls him 'Widget' on the same page).
Already experienced in flying the Hawker Hurricane, Gleed first flew the Supermarine Spitfire while on the strength of 266 Squadron. However, testing one of their new Spitfires (N3120) on 18 February 1940 nearly ended his career before it had really begun. A sudden, unexplained structural failure at 18,000ft found him falling through the air without an aeroplane (he had either been flung out or it had broken up around him). Fortunately, he still had his parachute. Even so, his injuries meant a 3-week stay in hospital and a fight to regain his flying status.
On 17 May 1940 he arrived at 87 Squadron (which operated Hurricanes and had first deployed to France on 9 September 1939) as a replacement. He possibly became the RAF's fastest ace: destroying two Bf110C's on 18 May, and two Do17z's and a Bf109E the next day (he also shared in the destruction of a He111, and claimed another Bf109E as a probable).
He survived the Battle of France and the Battle of Britain. On Christmas Eve 1940 he became Squadron Leader and commanding officer of 87 Squadron.
Nightfighter
By this stage in the war the Luftwaffe had abandoned large formation daylight raids and the squadron turned to nightfighting. However, even though ground control could use radar to direct them close to the enemy aircraft they were often unable to engage them or quickly lost sight of them. Airborne radar was still in its infancy and required so much equipment that it would only fit into larger aircraft. Later, in 1941, 87 Squadron took part in Turbinlite trials. A powerful searchlight was fitted in the nose of a twin engine Douglas Boston (called a Havoc), which also had airborne radar, operated by 1454 Flight. The idea being that the Havoc would sneak up on an unsuspecting German bomber and literally light them up for its two escorting fighter aircraft (provided by 87 and other squadrons) to shoot down. Unfortunately, the system did not work as planned and although it probably scared a few enemy airmen it failed to bring them down.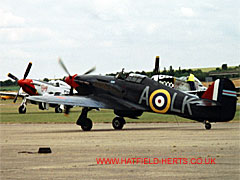 Flying Legends 2003 at Duxford – a Hawker Hurricane, wearing the black paint scheme and markings of Ian Gleed's P2798, LK-A, during his nightfighting role. Markings on the right side of the aircraft read A-LK, this is to allow the RAF roundel to be painted directly in line with the one on the other side. Also visible between the front of the cockpit and the row of exhaust stubs is one of the glare supressors – basically these were small sheets of metal positioned to prevent the pilot's night vision being ruined by the glare from his own exhausts.
Wing Commander
In November 1941 he was promoted to Wing Commander and took charge of the Ibsley Wing making fighter sweeps across the Channel (a fighter wing was made up of three or more squadrons. The Ibsley Wing consisted of 118, 234 and 501 Squadrons). As a wing leader he was entitled to use personal markings instead of the usual squadron codes (usually a set of three letters: two letters as the squadron identifier and the last denoted the aircraft), he used his initials, 'IR-G', on his personal Spitfire.
Among the numerous missions he flew one was leading his wing as fighter escorts for bombers on Operation Veracity I and II (attacks on the German Navy in the port of Brest), during which a bomber scored a hit on the battleship Scharnhorst. An incident which triggered 'The Channel Dash' by three German capital ships (Scharnhorst, Gneisenau, and Prinz Eugen). He also led his wing during Operation Fuller – the RAF's attempt to stop them.
Author
Gleed had met a number of literary characters through his love for sailing before the war (historian and biographer Norman Franks mentions W Somerset Maugham, Beverley Nichols and Hector Bolitho). Their friendship is thought to have influenced Gleed to try his hand at writing. His book, Arise to Conquer, which describes life as a fighter pilot was published in May 1942 (he was working on a second book, which contains the now poignant sentence: "It's strange how confident I feel that I shall survive this war.").
He was rested from combat operations and posted to Fighter Command headquarters in July 1942.
He could have sat the rest of the war out doing desk jobs but he volunteered to lead a fighter wing in the Middle East. He took command of 244 Wing, Desert Air Force at the beginning of 1943.
In good company – 244 Wing
244 Wing was made up of five squadrons: 73 (nightfighter), 92, 145 and 601 RAF, and 1 SAAF (South African Air Force). Later, on 17 March 1943, the Polish Fighting Team (affectionately called 'Skalsi's Circus') – an independent formation led by Squadron Leader Stanislaw F Skalsi – was attached to 145 Squadron.
Among the pilots under Wing Commander Gleed's command was one F/Lt Neville Duke and F/Off Paul Brickhill in 92 Squadron (there were also a number of Belgian pilots serving with the RAF, which led to him, as their leader, being awarded the Belgian Croix de Guerre in 1943).
17 March 1943 was something of a red letter day: Wing Commander Gleed scored his last confirmed victory (a Me109G), and F/Off Brickhill was shot down by Leutnant Berres of JG77 (to become his 35th 'kill'). Fortunately, he survived and after a stint in a Prisoner of War camp became a successful aviation historian. His best known books – The Dambusters; Reach for the Sky (the story of Douglas Bader); and The Great Escape – were all made into classic war movies.
Wing Commander Gleed was an exemplary commander and led his pilots into battle more times than his job required him to do. Also, later on, he had the option of flying the Spitfire IX but allowed less experienced pilots to do so (by 1943, his Spitfire Vb was outclassed by the German Fw190).
Sadly, he pushed his luck too far and was killed in action on 16 April 1943, aged 26.
The exact circumstances of his death remain a mystery but he is thought to have fallen victim to one of the German aces of JG77. He was credited with 13 victories; 3 shared victories; 4 probables and 3 shared probables; and 4 damaged in air combat. He also destroyed and damaged a number of enemy aircraft in ground attacks.
Fallen but far from forgotten
Ian Gleed's book Arise to Conquer and Norman Frank's comprehensive biography, Fighter Leader, are still in print, and are shown in the photo at the top of this feature. The copy of Arise to Conquer is a first edition and printed on poor quality paper which is why the cover is somewhat tatty. However, it is well written, provides a wealth of detail and gives a real insight into what a fighter pilot's life was like in those stormy days. Together they provide a detailed historical record of this gallant airman.
Corgi immortalised Gleed's Hawker Hurricane Mk.1, P2798, LK-A in its standard camouflage paint scheme with this 1/72 scale diecast replica (part of a limited edition of 5,600 as part of their commemorative issues for the Battle of Britain 60th anniversary in 2000). He flew this aircraft from May 1940 - August 1941 and scored the bulk of his victories in it.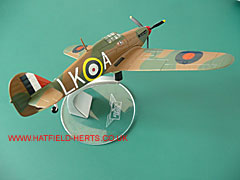 Plastic model kit makers Airfix and Hasegawa also produced kits featuring Wing Commander Gleed's aircraft. Airfix produced 1/24 super detailed kits featuring Hawker Hurricane Mk.1, P2798, LK-A and Supermarine Spitfire Mark Vb, AB502, IR-G (the aircraft he made his final flight in). While Hasegawa issued a 1/48 scale version of P2798, LK-A.
Lifesize tributes to the fallen hero occasionally appear at airshows, like Flying Legends 2003 at Duxford – among the line up of aircraft was a Hawker Hurricane painted as Gleed's LK-A and a Supermarine Spitfire painted as his IR-G (first and third tails from the left respectively). However, some operators only use these tribute paint schemes for a season or two before changing them to represent that of a different pilot (or the plane is repainted for film work).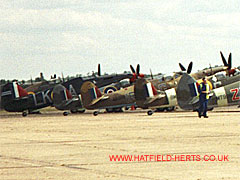 Figaro
Shown below on the door panel of the Corgi diecast Hurricane, Figaro was a cartoon cat that first appeared in Walt Disney's animated film, Pinocchio. Although a relatively junior character in the film, he seems to have been featured prominently in some of the film's posters.
The film was released in February 1940 and Ian Gleed adopted Figaro as his mascot for his brand new Hawker Hurricane, P2798, which he was issued on his arrival at 87 Squadron in France in May that year (although he wrote that the mascot was already painted on, which suggests he had used it before going to France).
Figaro shattering a swastika with his paw became the then Flight Lieutenant Gleed's unofficial coat of arms.
Curiously, the original version showed Figaro destroying a reverse swastika (as can just be made out in the picture below) rather than the Hakenkreuz used by the Nazis. Later versions corrected the mistake, and there were other changes.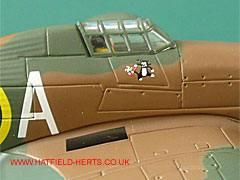 Wing Commander Gleed used the Figaro badge on all his personal aircraft up to and including the day he died. He saved the original doors decorated with his Figaro emblem from two of his Hurricanes, P2798 and Z3779. While a fragment of the Spitfire in which he died, AB502, only with Figaro, was recovered from the crash site by a childhood friend who was also serving in North Africa at the time. All three were kept by Wing Commander Gleed's family until they donated them to the RAF Museum in 1971. Sadly, there is currently not enough space for them to be kept on permanent display and they are in storage. However, pictures of these items can be seen on the RAF Museum's Navigator online database (item codes: 71/A/221, 71/A/222 and 71/Y/222).
Wing Commander Gleed once complained to a friend about having to grow up too fast. While poignant, it is somehow fitting that these relics, decorated with a children's cartoon character, are the last tangible reminders of this brave and dedicated man.
Back to: Aviation and Aerospace